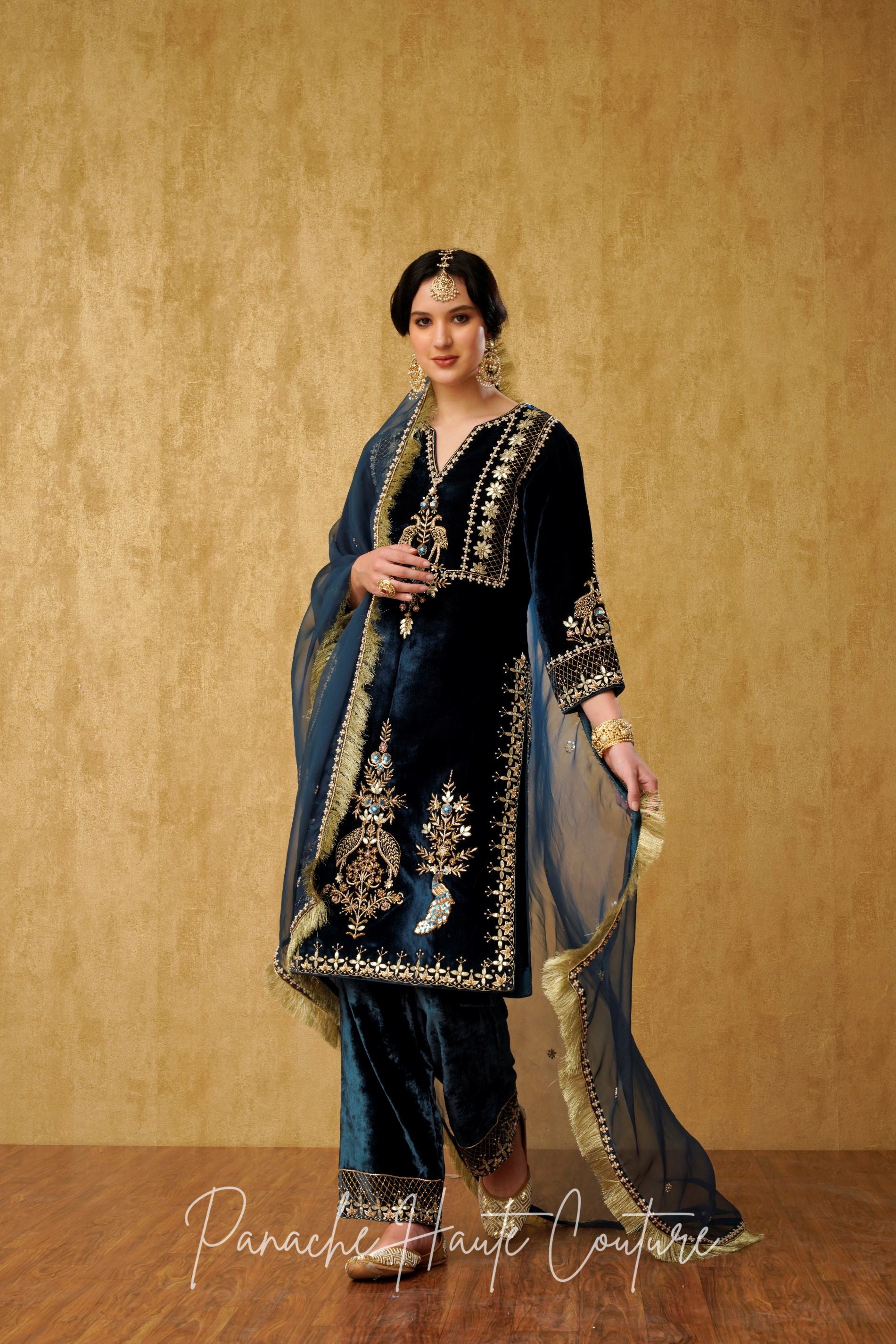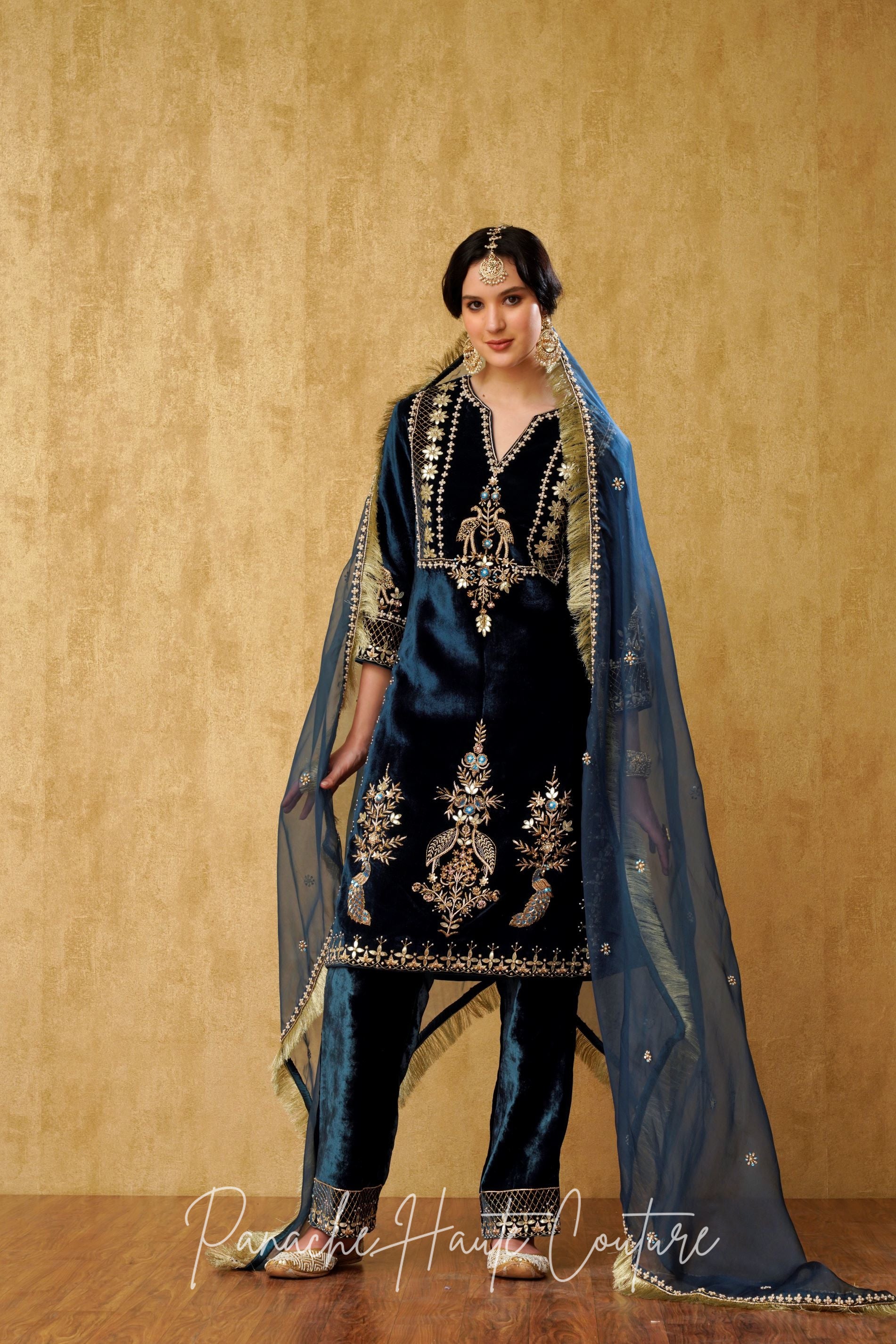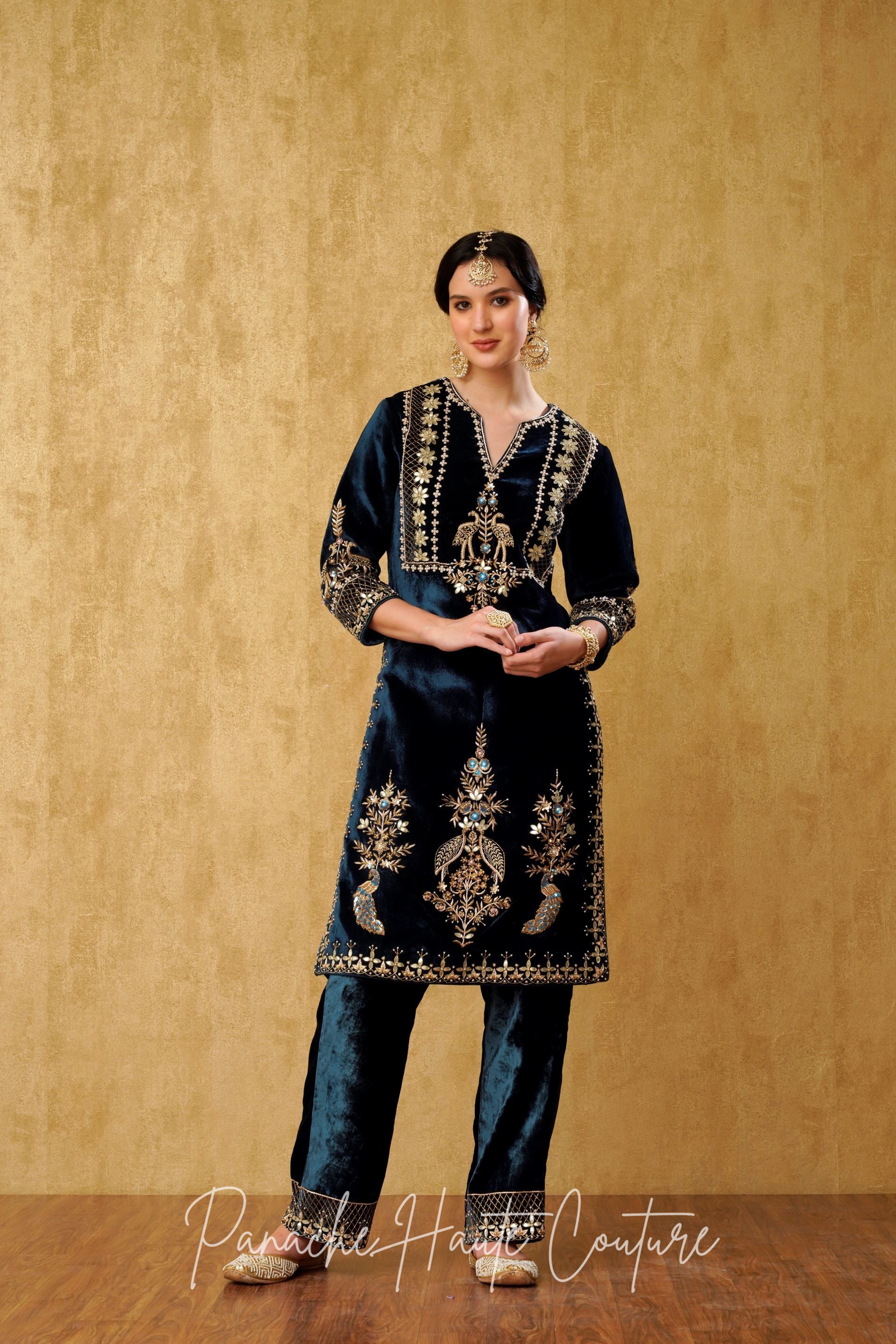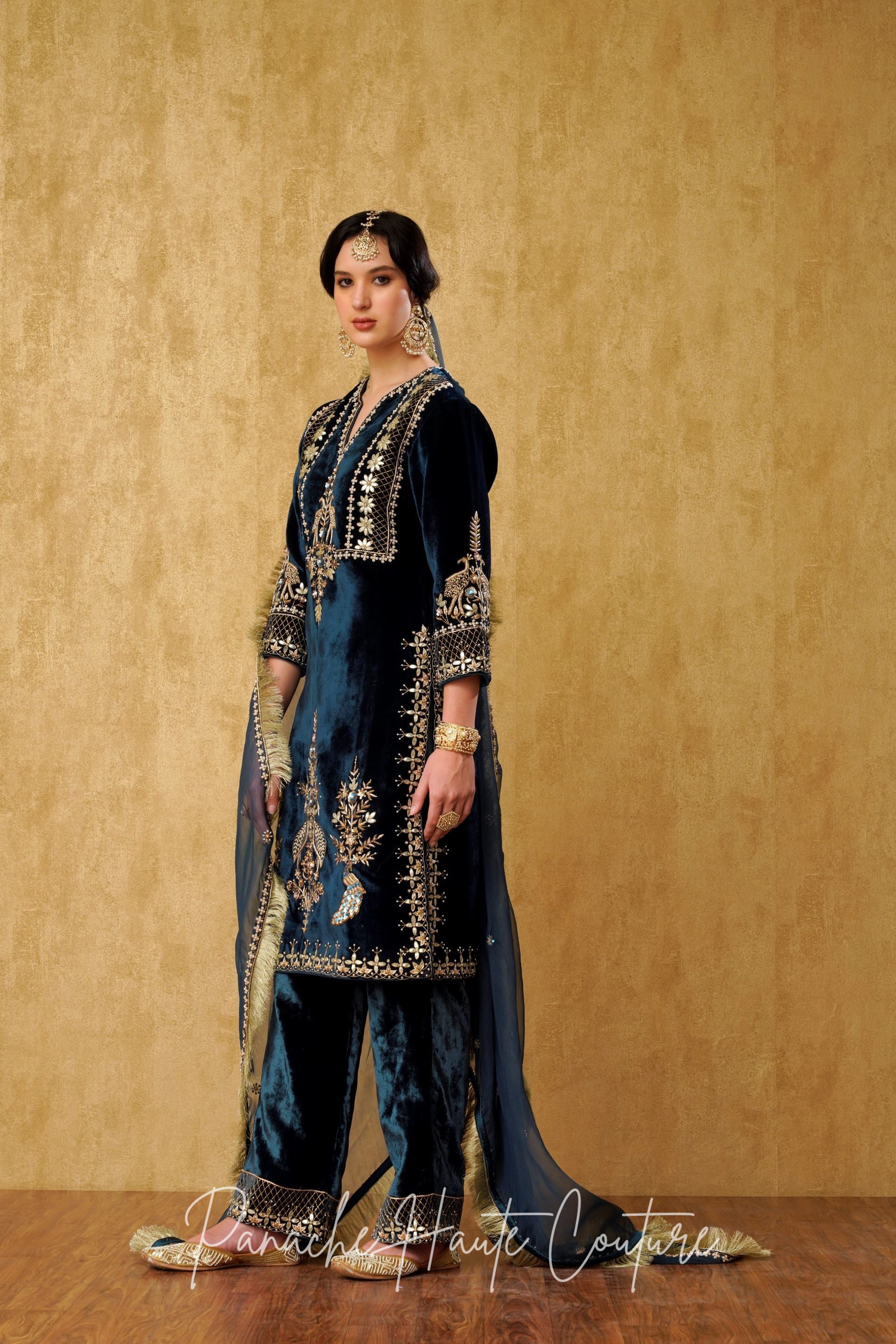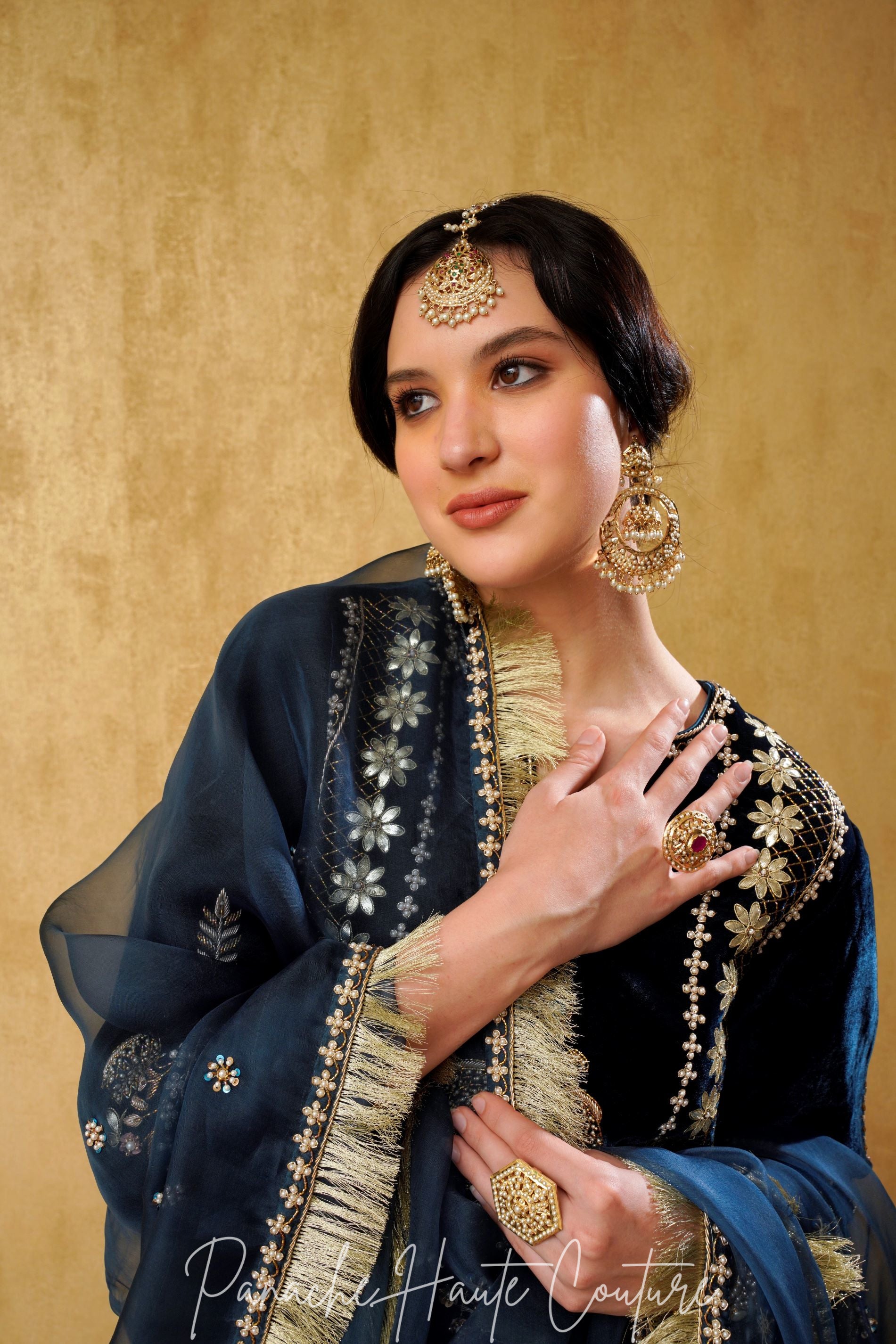 Blue Silk Velvet Punjabi Suit: Luxurious Ethnic Wear for Women
690
WinterRomance-003Blue
"Exquisite Silk Velvet Punjabi Suit with Gotta, Dori, and Pearls Embroidery: A Perfect Ethnic Wear for Women"
This Punjabi suit is a perfect combination of elegance and luxury. The kameez is made of silk velvet and features intricate gotta, dori, and pearls embroidery that adds a touch of glamor to the outfit. The embroidery is done by skilled artisans, making each piece unique and special.
The trouser is also made of silk velvet and is embellished with gotta, dori, and pearls embroidery at the edges, perfectly complementing the kameez. The silk organza dupatta features hand embroidery similar to the suit, adding to the overall aesthetic appeal.
This Punjabi suit is perfect for any special occasion, be it a wedding, a party, or a festival. Its unique embroidery work and luxurious fabric make it stand out from other traditional outfits. It is comfortable to wear and flows elegantly, enhancing your feminine charm.
Overall, this Punjabi suit is a perfect blend of traditional and contemporary styles, making it a must-have addition to any woman's ethnic wear collection. The exquisite embroidery work, luxurious silk velvet fabric, and comfortable fit make it a perfect choice for any occasion.
---
Brand: Panache Haute Couture
Collection Name: Winter Romance     
Availability: Online and In-store
Embroidery: Zardozi. Dori, Gotta, Pearls
Fabric: Kameez; Silk Velvet   Bottom; Silk Velvet Chunni / Dupatta; Silk Organza
Customisations:  You have the option to change the color of the garment. Please contact our Sales Team through WhatsApp +61470219564 to discuss your requirements.
---
Disclaimer: The model is of AU size 8 and 5'7" of height.