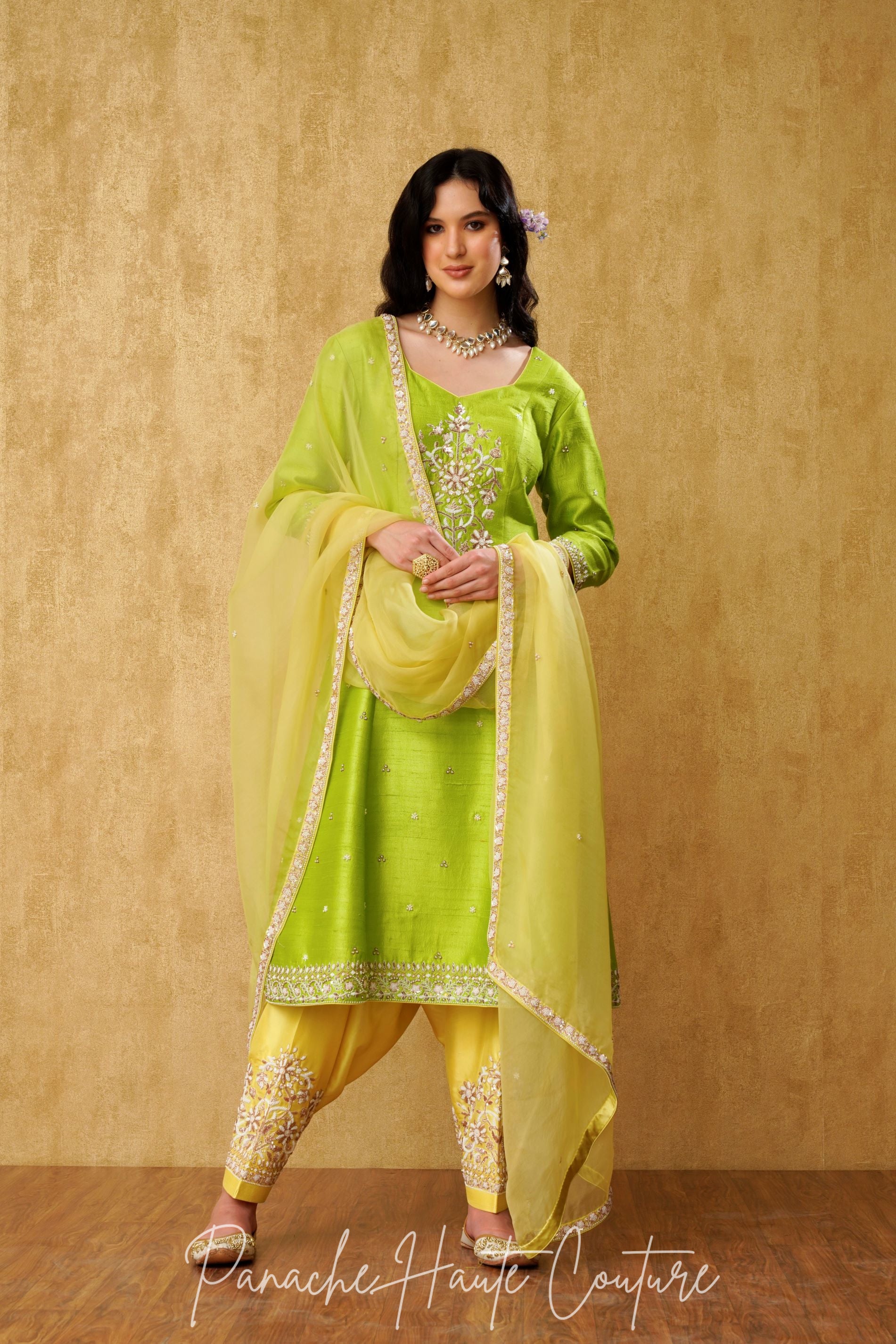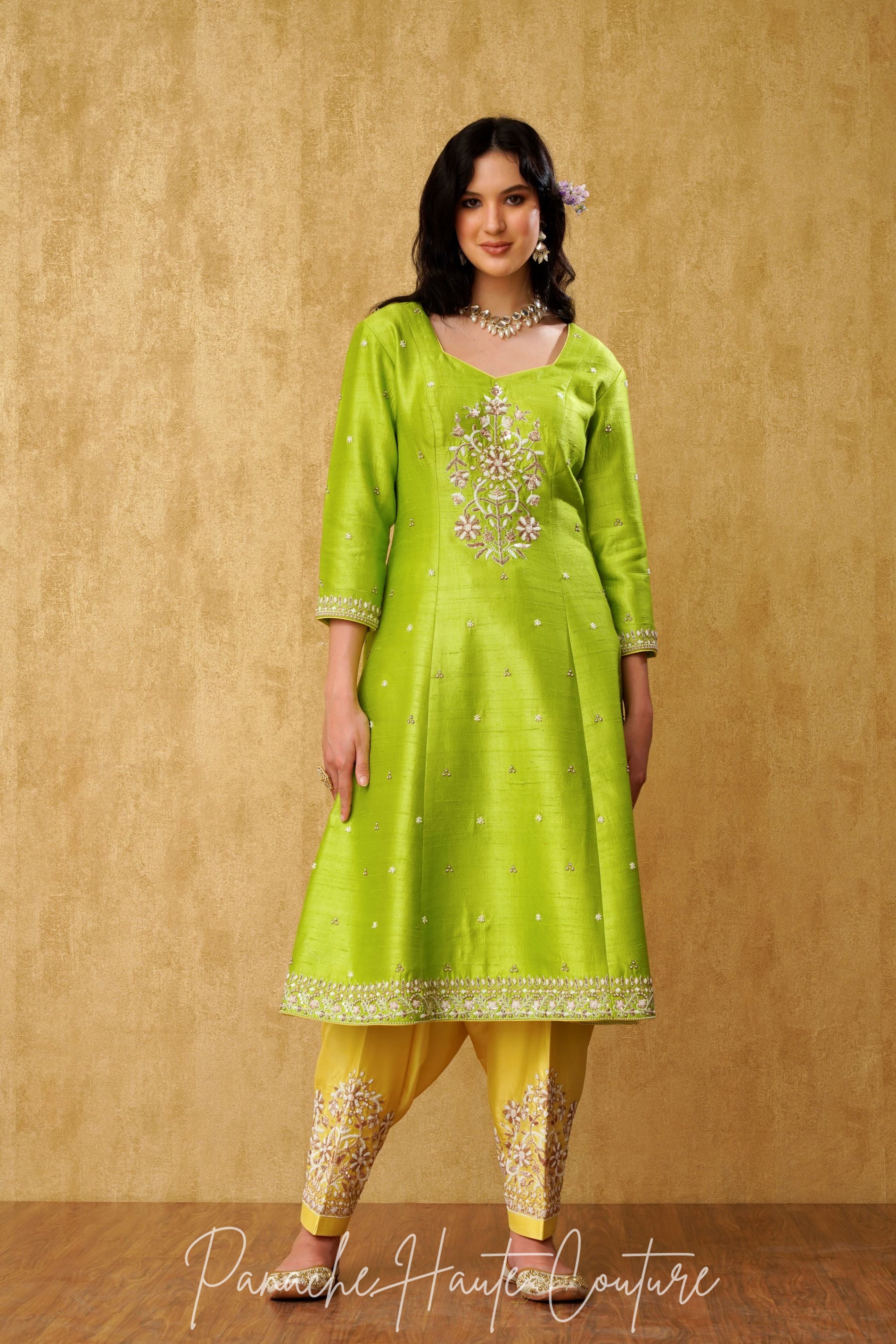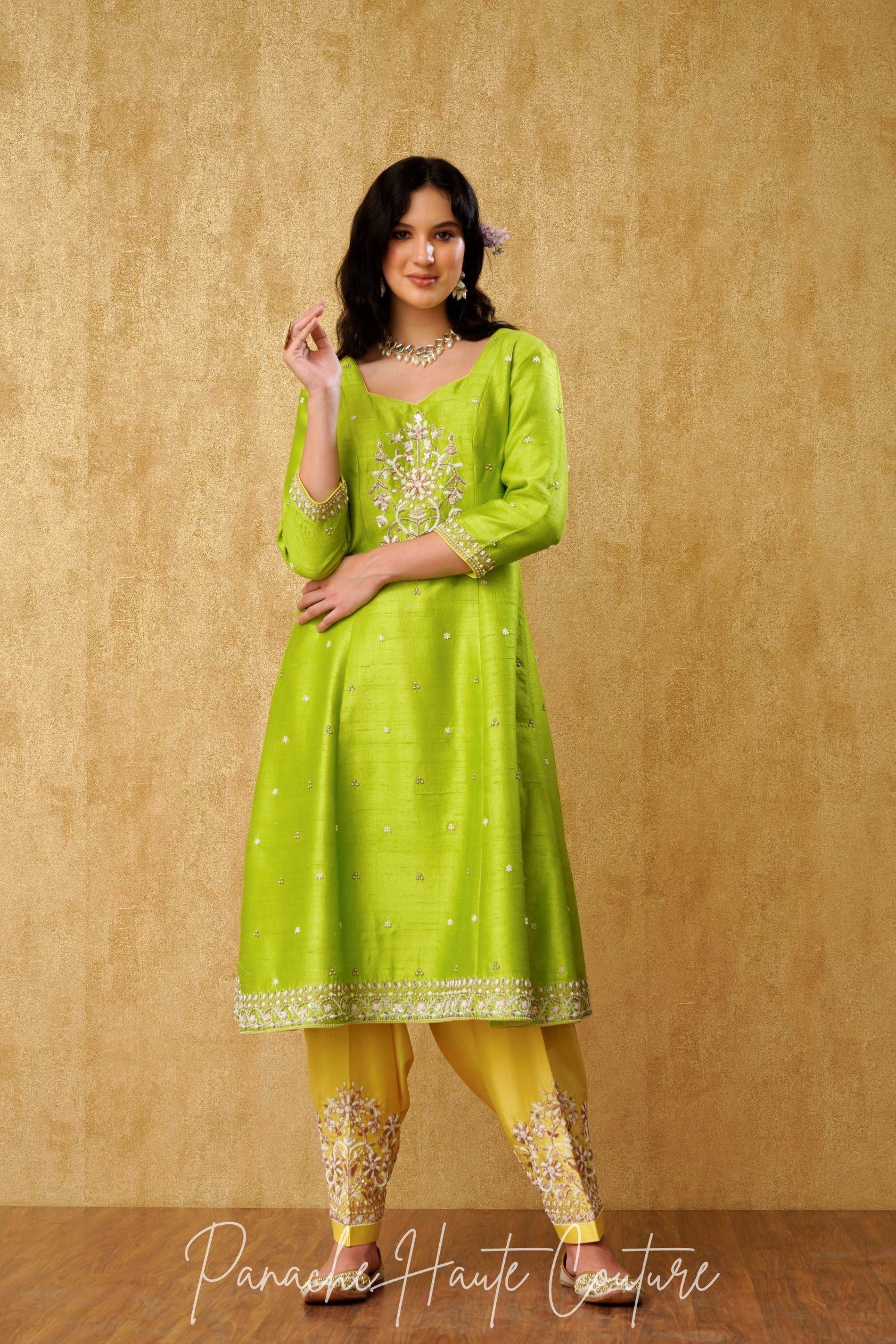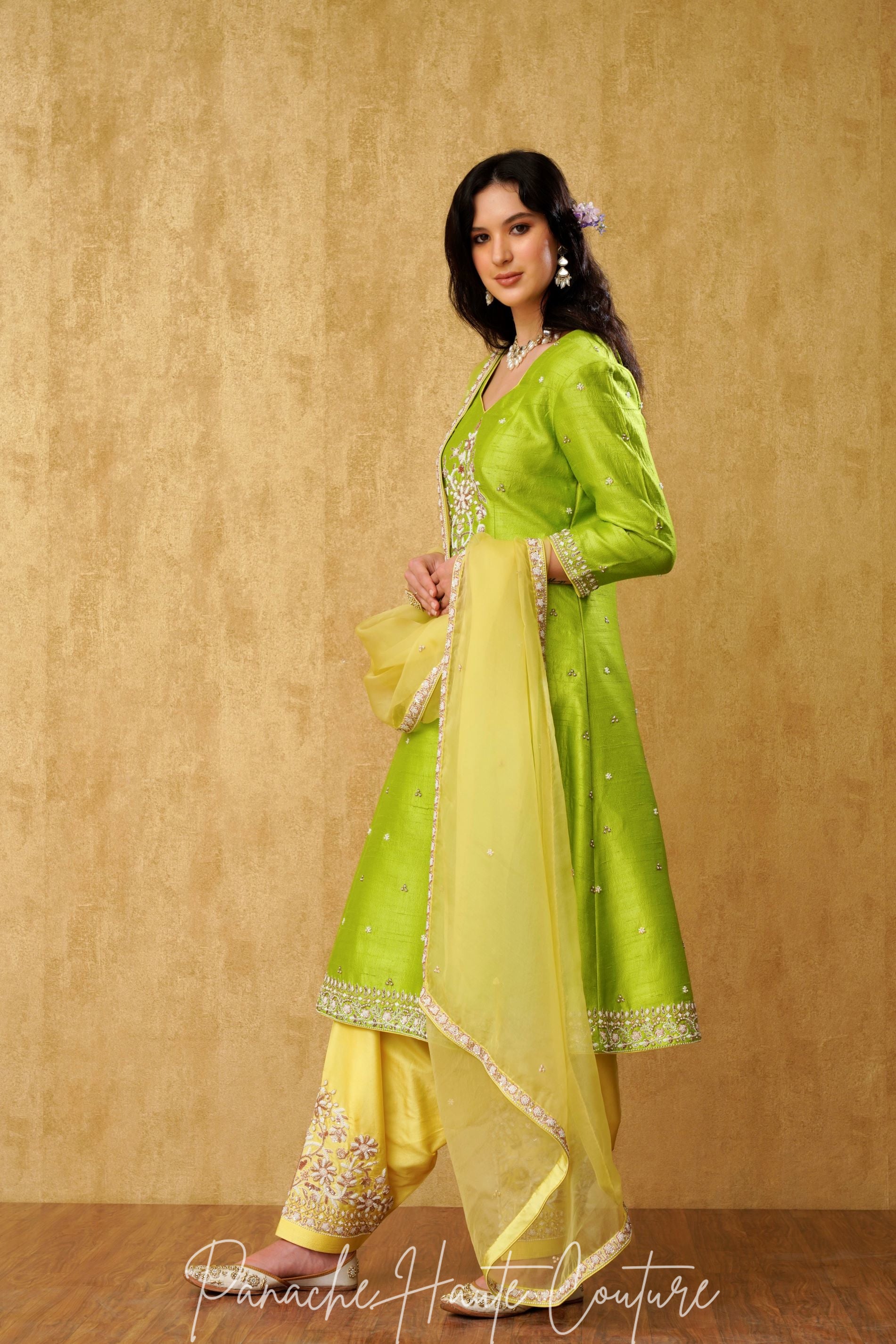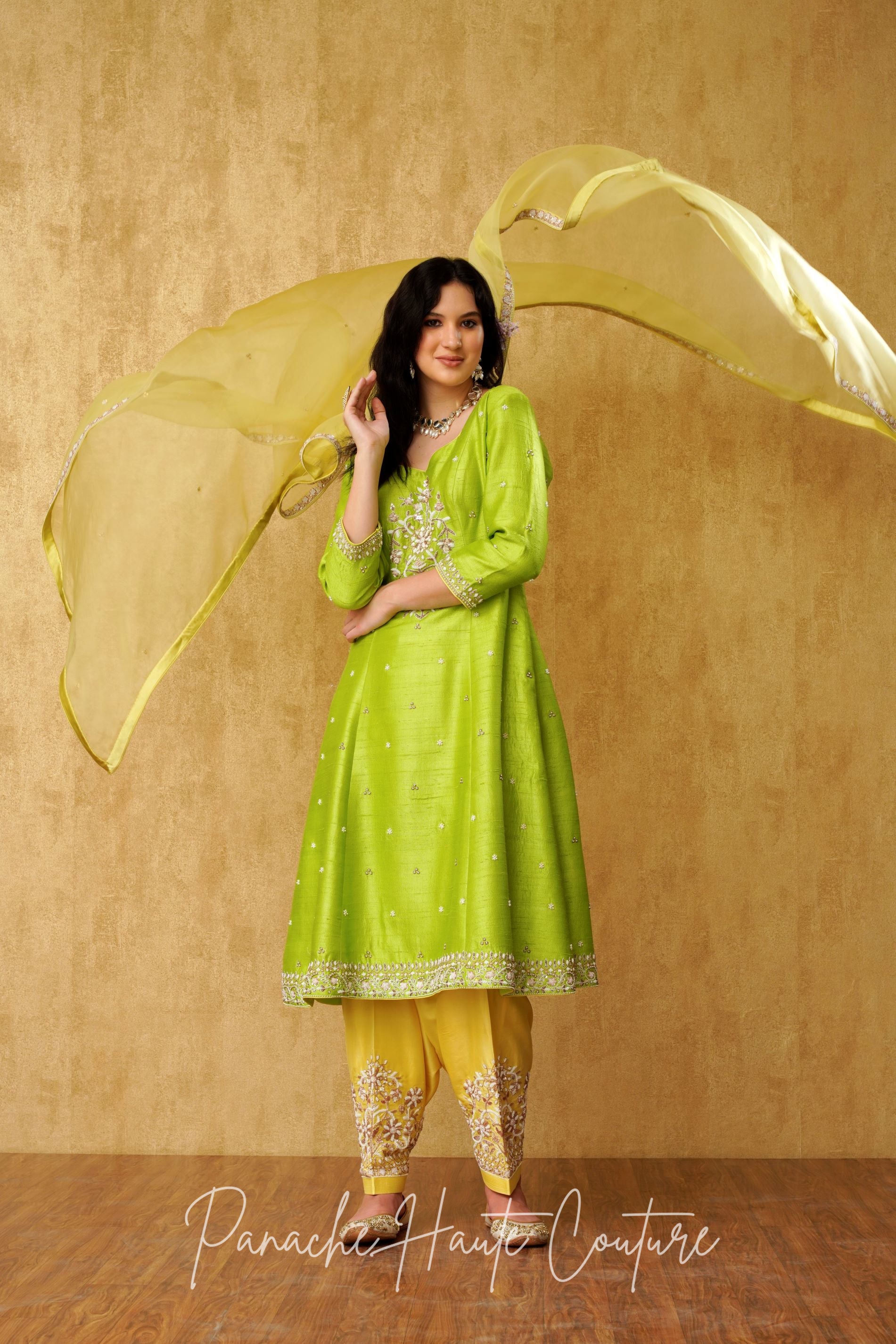 Fresh and Vibrant Lemon Green and Yellow Punjabi Suit
720
WinterRomance-009Lime
Introducing our fresh and vibrant Lemon Green and Yellow Punjabi Suit Set, designed to add a pop of color to your wardrobe. This beautiful set features a kameez made of premium quality raw silk, which not only adds a touch of luxury but also drapes beautifully on the body. The salwar is made of plain silk, which complements the hand-embroidered kameez perfectly.
The kameez is hand-embroidered with intricate designs, adding a touch of elegance and sophistication. The beautiful combination of lemon green and yellow creates a refreshing and vibrant look, making it perfect for any occasion. The dupatta, or chuni, is made of silk organza and features the same intricate embroidery as the kameez. It adds a touch of grace and charm to the overall look, completing the set perfectly.
The suit set is designed to cater to different body types and preferences. The loose-fitting salwar adds comfort and ease of movement, while the fitted kameez highlights the curves of the body. The set is perfect for weddings, receptions, parties, and other formal events, making you stand out from the crowd with its eye-catching design.
In conclusion, our Lemon Green and Yellow Punjabi Suit Set is a perfect blend of elegance and style, designed to add a touch of luxury to your wardrobe. With its premium quality raw silk kameez, hand-embroidered designs, and beautiful silk organza dupatta, this set is sure to make you feel confident and beautiful on any occasion.
---
Brand: Panache Haute Couture
Collection Name: Winter Romance         
Availability: Online and In-store
Embroidery: Hand-Embroidery
Fabric: Kameez; Raw Silk   Salwar; Plain Silk   Chunni / Dupatta; Silk Organza
Customisations:  You have the option to change the color of the garment. Please contact our Sales Team through WhatsApp +61470219564 to discuss your requirements.
---
Disclaimer: The model is of AU size 8 and 5'7" of height.